In July 2019, the BVEM team made the assembly test of the bottom feed vibroflot with 30-meter pile-frame completed successfully in the company base.
In the experiment, we installed and commissioning the customized bottom feed vibration equipment in the whole process. While verifying the performance of the equipment, we further optimized and improved the other performance of the equipment to meet customer requirements.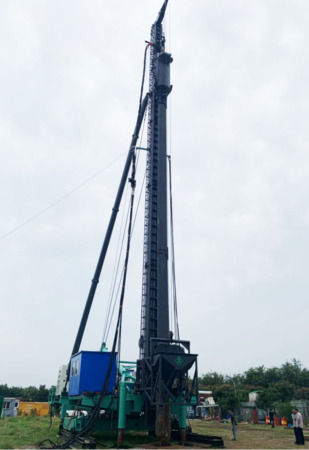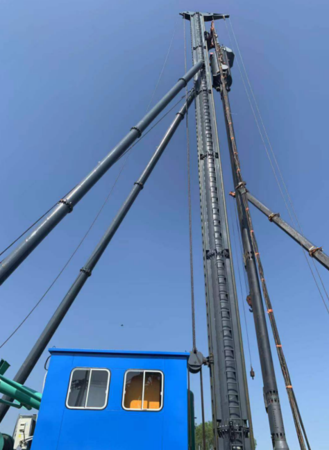 Profile of Bottom Feed Vibroflotation:
As a extension of vibroflotation technique, bottom feed method created a larger range of vibroflotation application. In terms of its feature, vibroflotation can be conducted to treat the foundation in those projects even under following situation:
1.Silty or silty clay soil with undrained shearing strength less than 20Kpa
2.Underwater or offshore stone column construction
3.Projects under the strict controlling of pile diameter
4.Place where the water resource are used in limitation
5.Place where the waste water are strictly prohibit to discharge
Bottom feed method vbroflotation construction need a special vibroflot equipment with bottom feed system to conduct. This professional equipment are commonly composed of :
1. Electrical or hydraulic vibroflot system ( vibroflot, damper, extension tube and electrical cabinet )
2. Feeding system ( feeding tube , damper )
3. Stock bin system ( double bin or single bin )
4. Material supply system (Winding type, sliding track type)
5. Controlling system ( Valve controlling , air pressure controlling, material level controlling )
In order to used for different construction conditions, the bottom discharging vibro-impactor can not only cooperate with the common crane, but also be combined with the walking pile frame, excavator and drilling rig to make the construction more accurate and efficient.
With the continuous improvement and upgrading of high-performance bottom feed vibroflotation equipment and our persistent promotion of the market, we believe that the bottom feed vibroflotation method will be more and more widely used in the engineering market.