The academic thesis of 《APPLICATION OF REAL-TIME PROCESS DATA IN THE WHOLE PROCESS QUALITY CONTROL OF VIBRO STONE COLUMN ENGINEERING 》written exclusively by BVEM was published in Chinese Journal of Ground Improvement.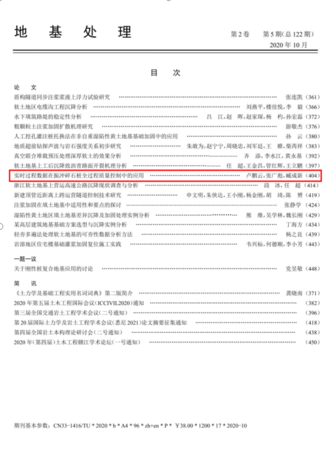 The main contents are as follows:
Abstract: Combined with geotechnical theory and engineering practice, this paper expounds the uncertainty of vibro stone column engineering in the process of geotechnical exploration, engineering design, stone column construction and effect testing, and puts forward a new idea of optimizing the whole process quality control of vibro stone column engineering. On this basis, the importance of dynamic real-time data acquisition for the realization of effective whole process quality control is expounded. At the same time, the classification, function and application of core real-time data affecting the engineering quality of vibro stone column engineering are described and demonstrated in detail, so as to realize the purpose of promoting the development of theory and application of vibro stone column engineering in ground improvement engineering.
Key words: Vibro stone column, uncertainty, whole process quality control, optimization, process, real-time data, quality monitoring, concealed works
If you are interested in it, you can contact us to get it.