Tibet is located in the southwest of China's Qinghai Tibet Plateau, with an average altitude of more than 4000 m, known as the roof of the world. Its severe geological conditions also create a unique landscape in Tibet. Its unique geological condition of mixing round gravel with coarse and fine sand also makes the traditional vibroflotation equipment unable to cope with it. In order to adapt to the complex geological conditions in Tibet, our company has tested different power vibroflotation equipment (including 75kW, 130kW, 150KW, 180kW) for many times,found that the small-power vibroflotation equipment can not meet the construction requirements. Finally, BVEM took a lot of manpower and material resources to develop high-power vibroflotation equipment (200kW, 260kw, etc.) to meet the complex geological requirements of Tibet.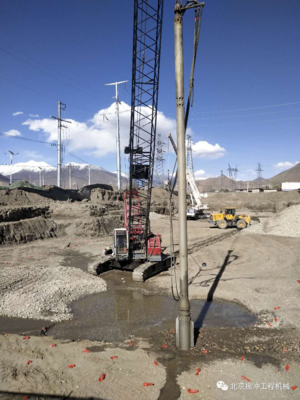 In mid of 2019, BVEM officially launched the vibro replacement stone column project in Zedang Avenue commercial and residential buildings in many places in Tibet (including Shannan City, Lhasa city and Xigaze city). The Vibroflotation team has overcome the harsh environmental and geological conditions in Tibet, fully guaranteed the project quality and worker safety, and successfully completed.
Among them, the proposed hada happy garden in Shigatse City mainly includes 58 buildings with one basement floor. The proposed building is planned to adopt independent foundation are proposed as the foundation form. The engineering importance grade is grade II. Due to the low bearing capacity of foundation soil and liquefaction of foundation soil, it can not meet the bearing capacity and seismic requirements of the proposed construction site, so it is necessary to carry out vibro replacement reinforcement for the foundation soil.
During the construction period, under the sincere cooperation of various departments, our company ensured the normal operation of the equipment, completed the construction task on time and with quality, and was highly praised by Client.