Project: Foundation treatment of vibroflotation compaction sand pile in Dabie Mountain Water Diversion Irrigation Project in Henan Province
The project mainly includes three parts: hub project, urban water supply project and irrigation area backbone project, so as to improve the comprehensive utilization engineering system of water resources in the old revolutionary base area.
The vibroflotation compaction piles for foundation treatment are arranged in the area of control gate chamber, upstream blanket, downstream stilling basin, upstream bottom protection and anti scour trough, downstream apron and anti scour trough, and wing wall of left and right banks. The pile depth is 7-13.5m, the distance of piles is 1.7m and 2.5m respectively; the design requirements are bearing capacity of 180kpa and 125kpa respectively, the relative density of foundation sand layer is greater than or equal to 0.7, and the heavy dynamic penetration number of piles is not less than 8.
BVEM 75kW and 130kW vibroflots equipment are adopted in this project.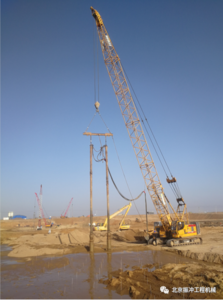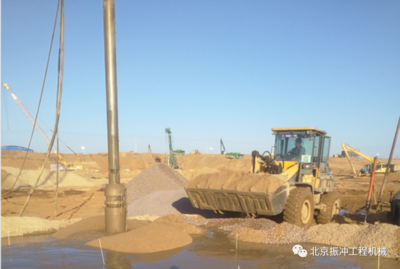 Project: Vibroflotation compaction stone column for foundation treatment of headworks of Dadu River hydropower station
The vibro replacement stone column project of the head hydroproject mainly deals with the foundation treatment of the concrete gate dam, in which the foundation treatment scheme of vibro replacement stone column combined with weighting is adopted for the concrete face rockfill dam on the right bank. In the downstream of the concrete faced rockfill dam foundation, the sand layer is treated with vibro replacement stone column by hole leading construction, which is arranged in square. Vibro replacement stone column is used to treat toe slab, connecting slab and impervious wall.
The bearing capacity of the vibro replacement stone column is not less than 850kpa, and the deformation modulus is not less than 50MPa; the stone material with particle size less than 5mm, content less than 10%, mud content less than 5%, and saturated compressive strength greater than 80MPa is used.
Several sets of BVEM 200kW vibroflot equipment be used for this construction.