In recent years, the application of dry bottom feed vibrator with the characteristics of accurate filling and the construction of stone column in muddy soil and at sea is more and more widely.
According to its different lifting methods,the equipment can be divided into crane type, pile frame type and barge type.
Following share bottom feed vibroflot system pile frame type with you.
Structure profile
The main structure of walking pile frame type bottom feed vibroflot system:
1. BJZC-BFS-400-180 vibrator with double locked air-pressure cavities designed.
2. ZB200 walking pile frame supporting host with 38m column
3. Tracking hopper with spout
4. The whole process construction quality automatic control system
Characteristic
1. Double locked air-pressure cavities:
As following picture show, the position signal of the double lock pressure cavity reflected by thesensor to indicate the upper chamber door and the lower chamber door open and close alternately,a certain air pressure is always maintained in the blanking pipeline to ensure the rapid falling of stones.
In offshore area construction, it can effectively avoid outer water pouring into the pipeline or even flowing back to the cavity. This system equipment is widely used in projects with large pile depth or underwater vibroflotation stone column projects.
2. Walking pile frame :
The base frame can not only move around and rotate 360 degrees with the vibrator, but also move all construction equipment (air compressor, air storage tank, generator, control cabinet, etc.) on one platform as a whole, so as to realize large-area piling per unit and avoid the time consumption of each construction auxiliary equipment moving with the pile. In large scale land construction, it can effectively save time and cost and improve construction efficiency.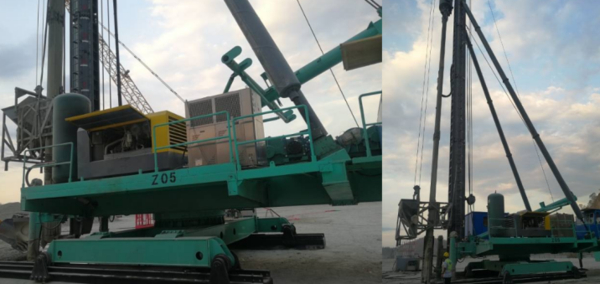 3. Tracking hopper with spout :
The rated bucket capacity of the lifting hopper is 1.2m3, and the internal slope is greater than the rest angle of the stone to ensure material filling smoothly. The material door controlled by air cylinder can realize the sequential opening of hopper door and blanking chute.
It is attached to the track and slides up and down under the action of auxiliary winch lifting steel wire rope, making the whole feeding and conveying process more stable, convenient and efficient.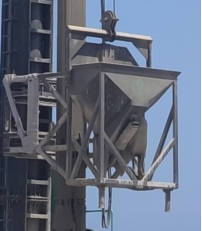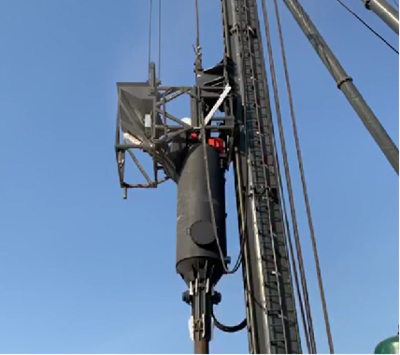 4. Automatic construction data recording management system:
It can realize the remote control function of multi equipment such as vibrator start and stop, pile quality parameter setting, feeding and valves. During construction, various construction parameters including the amount of filler will be recorded in real time to realize the whole process monitoring, control the construction process and ensure accurate construction.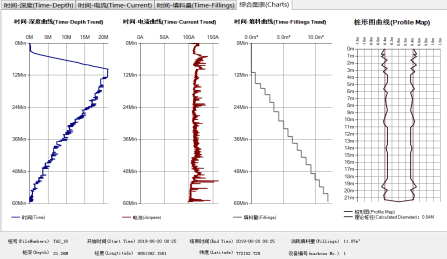 Construction parameters and pile charts of bottom feed vibroflotation
Application and construction efficiency
Dry bottom feed vibroflotation device walking pile frame type has been successfully applied to the land construction of the bottom packing vibroflotation construction project of the new container terminal in Tiba Bay, East Timor. Total number of stone column piles is about 37000. Pile depth range is 15 ~ 21 m, average boring time is 15 ~ 25 min,compaction time is 30 ~ 35 min, working time of the whole pile is 50 ~ 70 min, and maximum penetration SPT value is more than 50 blows.