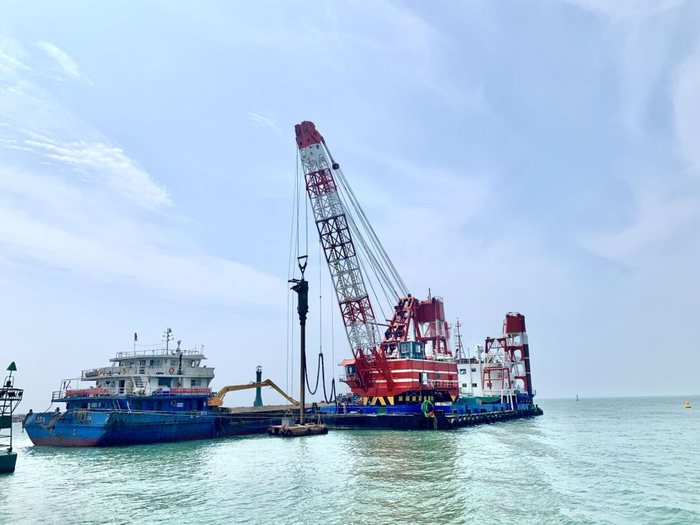 Profile of Marine Project
With the ringing of the New Year bell in 2021, the offshore construction of bottom feed vibroflotation equipment crane type is carried out in Caofeidian port area of Tangshan,China.The project is the processing of breakwater head for the expansion of port basin 20 ton channel. This is the first project that the bottom feed equipment crane type executed offshore construction in China.
The construction water area is located near the entrance of the harbor basin, inconvenient traffic and the influence of waves and ocean currents, resulting in the fact that the conventional offshore vibroflotation pile construction scheme can not be constructed in this sea area at all. In order to meet the requirements of foundation treatment, accurate positioning and normal construction of filler has become a difficulty in the construction of this project. Due to the limited working space and risks at sea, the requirements for equipment automation are also inevitable.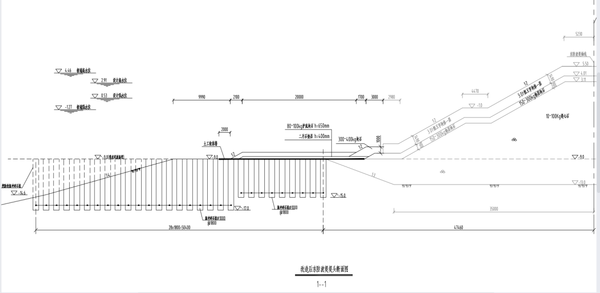 Marine Constrution Equipment
The unique vibration compaction of the bottom feed vibro punch improves the soil state, and the configured pipeline system can realize the characteristics of internal filling of the equipment, making the filling reliable and accurate. In addition, the one key pile making operation is convenient for offshore operation and greatly improves the efficiency. It is indisputable that bottom has become the first choice of offshore foundation treatment equipment this time.
Beijing Vibroflotation Engineering Machinery Co., Ltd., (BVEM) focusing on the vibroflotation industry for more than 40 years, has become the R & D and complete equipment supplier of the first bottom feed vibroflot in China, and the R & D and promotion of vibroflotation automation construction and quality control technology in the whole construction process. For this project, provided a complete set of bottom feed vibroflotation equipment, assisting CCCC first navigation engineering survey and Design Institute Co., Ltd. to participate in the project construction design and implementation.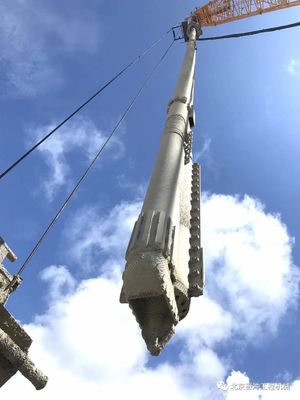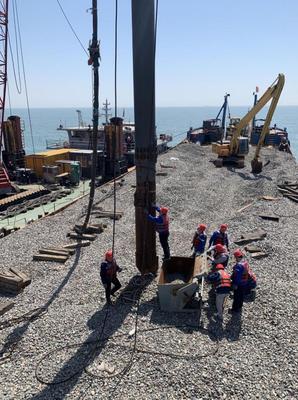 Offshore Stone Column Construction
The equipment and BVEM team successfully completed the construction task in the harsh environment with a minimum temperature of minus 25 degrees. More than 3000 piles have been built, totaling 25000 linear meters.
Main equipment for offshore stone column pile foundation treatment construction: bottom feed vibrator, crawler crane, material boat, excavator (feeding material).
Operation parameters of the project: from - 9m underwater, stone column pile diameter is 1m, and the execution pile depth is 15-17m.